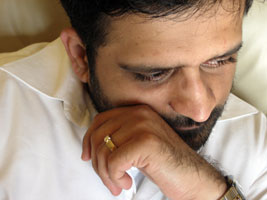 I am a creative professional, educator and an award winning Creative/Art Director, Media Designer and  Photographer. An early adopter of new, cutting edge technology and design trends; my focus is creating rich interactive  and engaging experiences whether it be within a browser, a touch screen interface, mobile screens or video screens. I am  a constant learner of emerging technologies, and all things related to digital and social media. Beyond interactive design,  my background includes Photography, Motion Graphics, 3D, Visual Effects and Brand Identity. In short everything  digital and creative.
My educational background include a B.F.A in Photography where I topped my class and won various awards and a M.A  in Computer Arts (Motion Graphics and Visual Effects) from The Savannah College of Art and Design (SCAD),    Savannah, Georgia.
Currently I live in Minneapolis, Minnesota and am a Senior Art Director for Target Corporation. My tenure at Target has given me some amazing opportunities to lead teams and vendor partners to create innovative content whether it is for the enormous moving screens at Victory Park, Dallas or for the plethora of screens at the L.A Live (Nokia Theater) in L.A., interactive projections, Rich Media banners, directing and producing numerous video and photo shoots, corporate videos and senior leadership messages, interactive touch screen interfaces including Microsoft surfaces and numerous other interactive prototypes.
As a faculty member at The Art Institutes International Minnesota, I helped develop and write the Motion Graphics and Interactive programs. I enjoy sharing my skills and knowledge with others and have presented at various conferences; my inner professor loves to teach, learn, explore and share!
You can think of me as a creative problem solver who understands the challenges of porting creative to technology and vice-versa. I am constantly looking for creative solutions for complex challenges and have solid hands on experience and a keen sense of Design, Typography, Motion and Photography.